Disclosure: I am a member of Smiley360. I received a free sample of Dimetapp® products and coupons to share with friends. As always, my opinions are my own.
Always check with your pediatrician before starting any medication product to a child and specifically Dimetapp. Consult your healthcare professional prior to use if you are pregnant, nursing, taking any medication or have a medical condition. Keep out of reach of children under Age 6.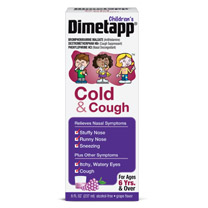 If you are a mom you have had to deal with those winter coughs, colds and other illnesses. It can feel so overwhelming sometimes! Did you know that most children will have between 6-8 colds a year?
What is the best cold remedy
?
What is the best cough rememdy?
Now you can bee prepared with great tasting Dimetapp®. Dimetapp® offers trusted and effective cough, cold & allergy products for children, helping kids feel better, fast. My mom always used it for me when I was little and it really helped. Best of all, Dimetapp® products come in a great grape taste kids love, and have been trusted by moms like you for nearly 30 years.
About Children's Dimetapp® Cold + Cough:
Children's Dimetapp® Cold + Cough tackles your child's most bothersome cold symptoms, including cough, nasal congestion and runny nose. And, it comes in a great, grape flavor that kids love,..I know mine does.
This gives any mom the opportunity to relieve your little one's cold symptoms so they can get back to being kids. Dimetapp® Cold & Cough is available in 4 and 8 oz. sizes. It is also available in a Day & Night Value Pack, which includes a special nighttime formula, Dimetapp® Nighttime Cold & Congestion, made to relieve your child's cold symptoms so they can rest better.
Children's Dimetapp® Cold & Cough provides relief from these symptoms:
Cough
Stuffy Nose
Runny Nose
Sneezing
Itchy, Watery Eyes
Important:
Read all product information before using.
Do not use in children under age 6.
I received a Smiley Kit with the following items:
• One 4 oz. bottle of Children's Dimetapp® Cold & Cough
• Four flyers with a
$1.00 off coupon
attached
• Link to a $1.00 off
digital coupon
• Smiley360 Sharing Guide
For more product information, click
here
Click
here
to receive a $1.00 off coupon
Click
here
for complete drug facts, uses, warnings, dosing chart and active ingredients