Disclosure: I received the product free through Smiley360 for review purposes. My opinions are my own.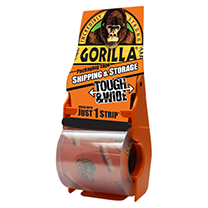 I often have to ship items for work out of my home office. From time to time I need to ship my own personal packages as well. I like to keep a good supply of packaging tape on hand but I have seen the quality varies from brand to brand. The last thing I want is and #epicfail with my packaging tape. I want my recipient to get the package I send in perfect condition. That is where Gorilla® Packaging Tape comes in. It is the ultimate solution for moving, shipping and even storage.
It is hard to believe but it is true....keeping packages secure now takes JUST ONE STRIP™ with this thicker, tougher and wider tape! That really saves me time and my time is money and time with my family.
Gorilla® Packaging Tape is

smooth and has a quiet release when your recipient opens the packages. It is water and temperature resistant which is important for shipping through the crazy northeast weather here. What that means for me is that it will hold-up through a variety of conditions. Even better, applying Gorilla® Packaging tape is a quick and effortless activity with no headaches. It comes in a durable, easy to refill dispenser that cuts tape with ease making Gorilla® Packaging Tape the perfect solution for all of your packing and shipping needs.
Click here for more information about Gorilla® Products. They have tons of great products that I have used over the years so check them all out. Don't forget to LIKE Gorilla® on Facebook and follow @GorillaGlue on Twitter. You never know what you might get wind of early on...maybe promotions, perhaps sweepstakes or contests or possibly coupons or discounts. If you follow you can be the first to know.

Disclosure of Material Connection: I received one or more of the products or services mentioned above in the hope that I would mention it on my blog. Regardless, I only recommend products or services I use personally and believe would be good for my readers. I am disclosing this in accordance with the Federal Trade Commission's 16 CFR, Part 255: "Guides Concerning the Use of Endorsements and Testimonials in Advertising.